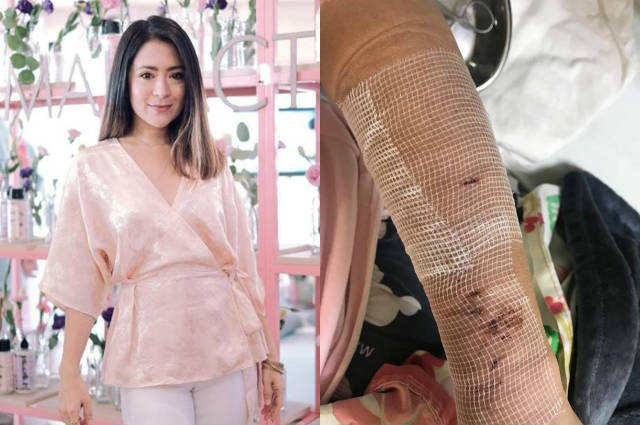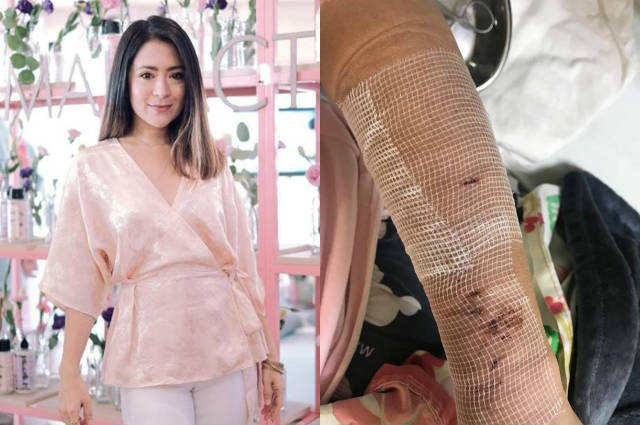 Actress and host Antoinette Taus is currently recovering in the hospital after being attacked by a dog, leaving bites to her left forearm, left thigh, and right breast.
In her Facebook post, Antoinette shared how a chow chow attacked her during a family wedding in Baguio and left her forearm severely damaged as she had to undergo two hours of surgery and suturing.
=========
Related Stories:
Paulo Avelino suffers from dislocated shoulder after motor crash on track
Ella Cruz hospitalized, requests for prayers
Netizens express concern over Billy Crawford's hospitalization
==========
Part of her post says: "I am currently confined and recovering from dog bites to my left forearm, left thigh, and right breast. I was attacked by a chow chow on Saturday evening while at a family wedding in Baguio. My left forearm suffered the worst and took two hours of surgery and suturing.
We didn't get to take photos when it happened or in the emergency room. There was so much going on that nobody thought of it. These are photos of my arm after surgery when my bandages were being changed. But initially when it first happened there was some fat hanging out of the wound and I could even see the tendon in my wrist. Luckily there's no permanent damage and no arteries or nerves were harmed.
I don't mean to worry anyone, but I just wanted to give a proper update for those concerned. I have some events and meetings lined up this week and I sincerely apologize for not being able to attend to work for now. Praying for a speedy recovery and deeply grateful to the amazing doctors and nurses that have been so wonderful in taking care of me since I arrived.
CONTINUE READING…