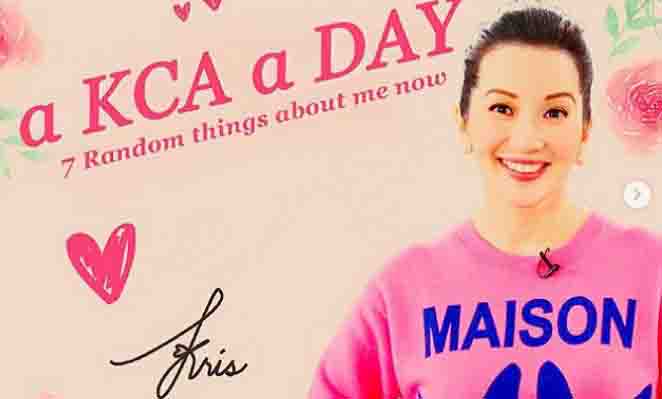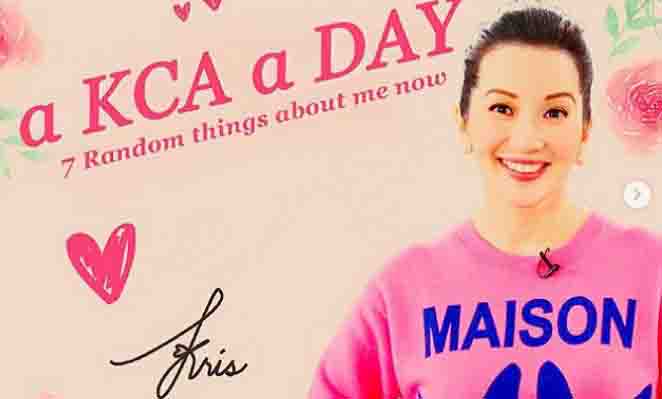 Kris Aquino shared with her fans and followers new random things about herself. Kris shared things like her weight, her health condition, her personality crushes, her new readings, fashion and a lot more.
Here are the seven things she shared:
1. I weigh 116 lbs now upon waking up… my lowest was when i went below 114 lbs. i was measured at a precise 161.5 cm or 63.58 inches. According to healthline.com my healthy weight should be in the 109 to 140 lbs range. So PASOK.
2. I now drink 4 types of antihistamines- (3 in the morning and 4 at night) that in medical terms are H1 & H2 antagonists. I take 1 betablocker in the morning, 2 before sleeping. And 1 cholesterol medication to help raise my good cholesterol level… i won't bore you but i also need migraine prevention medicine the week before & while i have my period. I also take a multivitamin, vitamin C, and vitamin D.
3. We compromised, i'm allowed maximum of 2 glasses of cow's milk per day and if i want more milk, i take calcium enriched soy milk.
4. I overhydrate… Most people are told to drink more water, i was asked to lessen because my sodium level is below the acceptable average.
5. My news personality crushes are Anderson Cooper, Chris Cuomo, and Don Lemon. They are on air from 8 to 11 PM Eastern Standard Time on CNN. Fortunately, they are on CNN HD here 8 AM to 11 AM (on Cignal it's channel 251) and if i miss the full broadcast CNN uploads clips on YouTube.
6. I'm now a Small for Japanese clothes, an extra small when the brand is American or European. Fashion trends are all oversized, BUT i have always preferred "KURBA"- Bimb can be exceptionally frank, he told me i lost my "booty" and i need to work on this.
7. I'm now torn whether to start reading John Grisham's Camino Island or James Patterson's Ambush… I devoured James Patterson's Juror #3 in 2 nights. There are people who love to binge watch US network, Korean, British or HBO series, i do too BUT reading is my first and lasting love.
(Photo source: Instagram – @krisaquino)