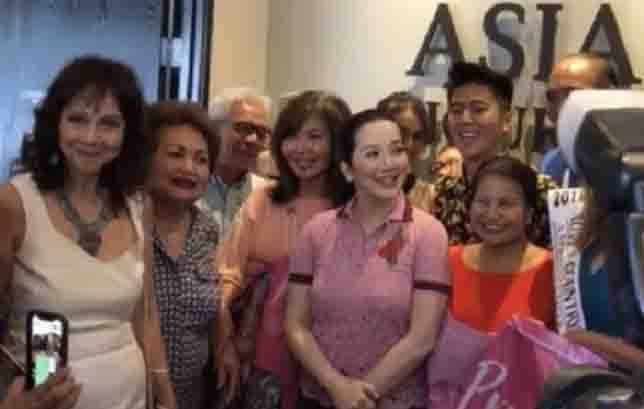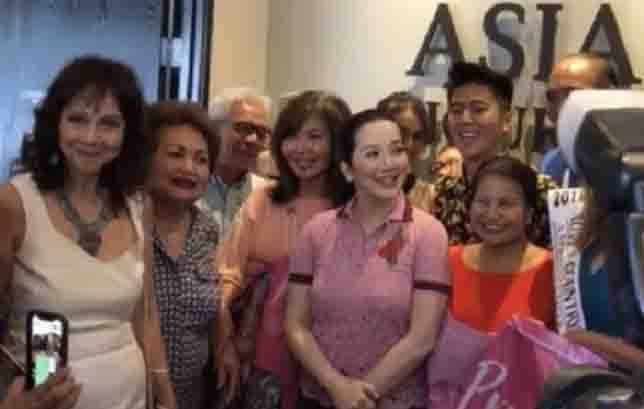 Kris Aquino together with her sons Bimby and Kuya Joshua were welcome by Filipino fans in Los Angeles USA. Kris went to LA to attend the premiere night of the movie 'Crazy Rich Asians' where she is a part.
Filipino fans were so happy to see the actress.
On her Instagram account, Kris posted a couple of photos of the meet and greet session with the following caption:
==========
Related Stories:
Kris Aquino shares sneak peek of her outfit for 'Crazy Rich Asians' red carpet premiere
Kevin Kwan says Kris Aquino's appearance is 'a highlight' of the movie "Crazy Rich Asians"
Kris Aquino says 'Crazy Rich Asians' might be her last movie
==========
"i apologize- they got the semi dehydrated, low blood pressure version of me at the lunchtime Asian Journal picture taking/meet & greet. ????I need to give a huge GRATITUDE shout out to @rbchanco- i woke up pale, weak, 85/60 low BP but somehow by RB's immense talent became #rbeautified.
When we got back to our hotel i obeyed my doctor, went straight to my room, washed up & slept… in less than 16 hours will be the moment we flew here for… thank you @tv5manila's @mjmarfori, and Christina from Asian Journal (she's a 25 year old FilAm born & raised here, but said she grew up watching me on Game KNB.) Napanuod na nya ang @crazyrichasians…in our interview she said watching my scene brought happy tears from feeling positively recognized as a people… another friend watched a special screening tonight for the ?️‍? community in LA. He mentioned that when the wedding scene started & i came in- all the Filipinos were cheering & clapping.
In his words, "Krisy nakaka PROUD for all of us" – i can only thank God for being 1 of His instruments that even in a few minutes of screen time, i'm given the GIFT of uplifting our national spirit. #philippines He ended his congratulatory text by saying CRA stands for CREATIVE REFRESHING AMAZING… #kaysarapmagingpilipino ??❤️?? (Song credit: Thanks To You by Kris Lawrence from my Universal Records album The Greatest Love)"
(Photo source: Instagram – @krisaquino)