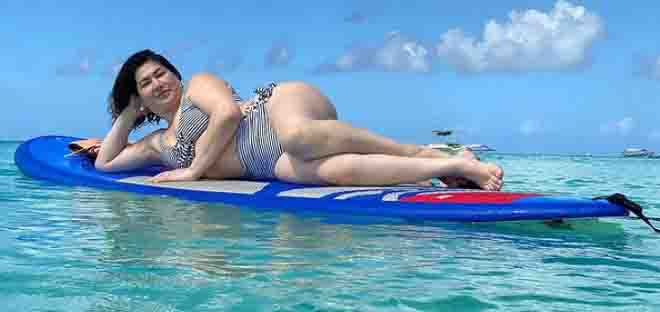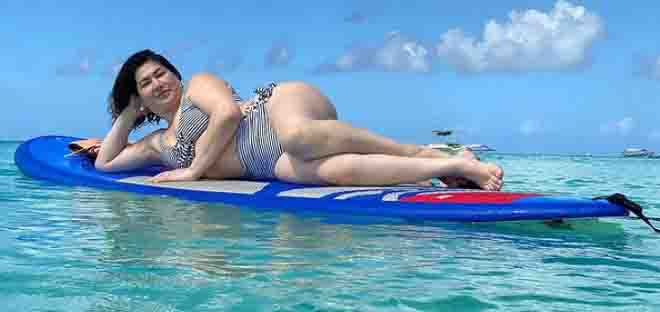 Actress Jackie Forster went into a vacation in Boracay and confidently post a photo showing her in a swimsuit while relaxing in a surfboard. Jackie is in her usual self – still beautiful and gorgeous despite being 42 and having five children.
Even before netizens can start posting nasty comments, Jackie cautioned bashers to use their energy into something good rather than putting someone down.
On her Instagram, Jackie posted the following message:
"I'm not fat, I'm chunky. And I'm secure enough with myself that even with all my stretch marks and cellulite at 42 with 5 children to still dare to wear bikinis! 💃🏻 Please stop posting nasty comments on my profile. My ❤️ cannot understand what you want to come of it.
You can't hurt me because I'm in a good place in my life and you can't take anything from me, again because I'm in a good place in my life. It's always about where you are.. so please stop and pray whenever you feel the need to bash and critique someone who is doing nothing wrong to you or others.. use that energy instead to do something that sparks passion and purpose in YOU so you can have something amazing to do with your time rather than putting others down. Yun lang yun.
Trust me once you start being happy for others and stop the ENVY and GOSSIPING YOuR LIFE WILL IMPROVE! You will be more motivated to do things for yourself and people around you will also notice that and that may also help encourage others to help guide you to achieve more. Do good to Attract good and more good will keep coming back.. and most importantly be happy with yourself – if you aren't happy with yourself – Don't take it out on others and Do something about it. ❤️
Beautifully confident"
(Photo source: Instagram – @jackie_forster)