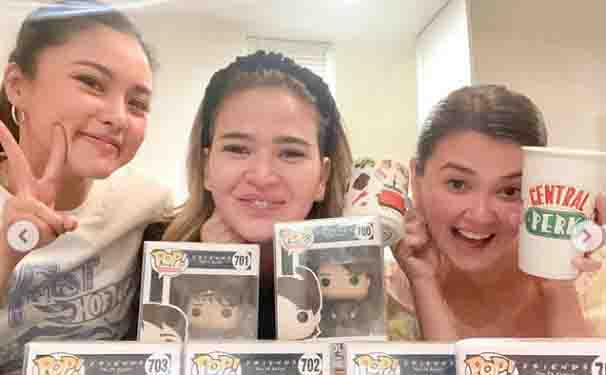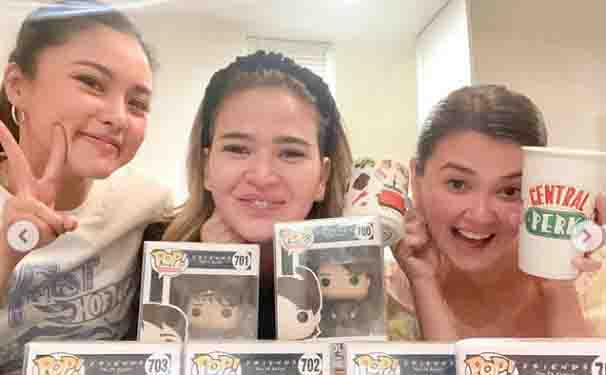 Fans and followers of Actress and TV host Kim Chiu expressed their admiration over her friendship with her fellow actress, Angelica Panganiban and Bela Padilla. It can be recalled that the three actresses called their group as 'AngBeKi'.
In Kim's Instagram account, she posted several photos and videos with Angelica and Bela taken when they had a reunion. In the photos and video, the three of them showed off their merchandise of the well-known American sitcom titled 'Friends'. Kim also shared some clips where they were seen watching the reunion special of the said sitcom.
"𝐅. 𝐑. 𝐈. 𝐄. 𝐍. 𝐃. 𝐒. 💕💕💕💯
"𝖳𝗁𝖾 𝖻𝖾𝗌𝗍 𝗄𝗂𝗇𝖽 𝗈𝖿 𝖿𝗋𝗂𝖾𝗇𝗌𝗁𝗂𝗉𝗌 𝖺𝗋𝖾 𝖿𝗂𝖾𝗋𝖼𝖾 𝗅𝖺𝖽𝗒 𝖿𝗋𝗂𝖾𝗇𝖽𝗌𝗁𝗂𝗉𝗌 𝗐𝗁𝖾𝗋𝖾 𝗒𝗈𝗎 𝖻𝖾𝗅𝗂𝖾𝗏𝖾 𝗂𝗇 𝖾𝖺𝖼𝗁 𝗈𝗍𝗁𝖾𝗋, 𝖽𝖾𝖿𝖾𝗇𝖽 𝖾𝖺𝖼𝗁 𝗈𝗍𝗁𝖾𝗋, 𝖺𝗇𝖽 𝗍𝗁𝗂𝗇𝗄 𝗍𝗁𝖾 𝗈𝗍𝗁𝖾𝗋 𝖽𝖾𝗌𝖾𝗋𝗏𝖾𝗌 𝗍𝗁𝖾 𝗐𝗈𝗋𝗅𝖽."
Happy to have found this kind of friendship!!!💕💕💕 #AngBeKi love you momsies! I miss you both so muchie!!!!❤️ #friendsthereunion@bela @iamangelicap salamat sa tawanan and happiness! Feeling recharged!!!!😁🤣😅🔋 hahaha" Kim wrote in the caption.
The said photos and videos that Kim has shared captured the hearts of netizens as it went viral. In the comment section, Angelica also expressed her love to Kim and Bela as she wrote, "Always the best and the happiest! ❤️ love you momsies!"
(Photo source: Instagram – @chinitaprincess)