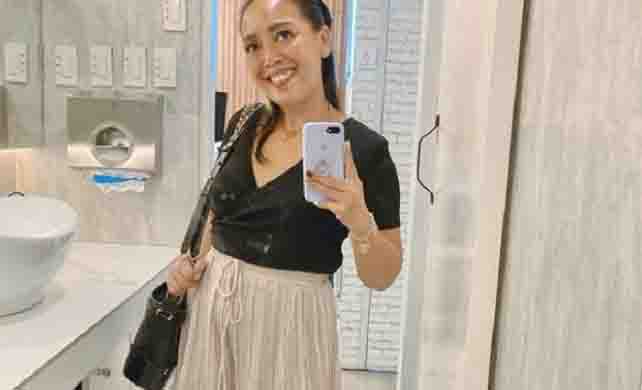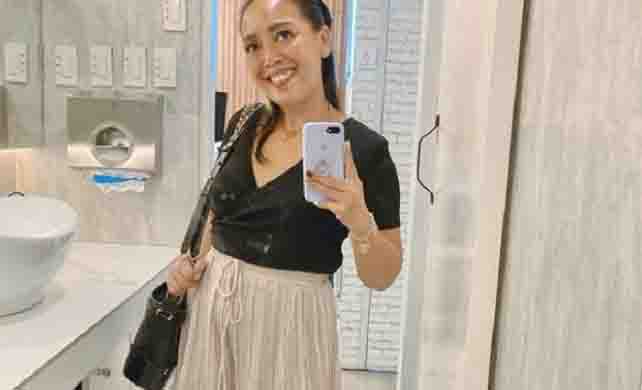 Does you outfit need to be expensive to be called beautiful? Actress Kakai Bautista don't think so. In her recent Instagram post, Kakai posted a photo and revealed that her outfit cost only PhP 100 pesos.
Kakai said her 𝚃𝚘𝚙 coats 50 pesos and 𝚊𝚗𝚍 her 𝚜𝚑𝚘𝚛𝚝𝚜 costs 60 pesos. Kakai bought the outfit in an u𝚔𝚊𝚢-𝚞𝚔𝚊𝚢 𝚒𝚗 𝚃𝚊𝚐𝚊𝚢𝚝𝚊𝚢.
"𝟷𝟷0 𝚙𝚎𝚜𝚘𝚜 𝙾𝚞𝚝𝚏𝚒𝚝 𝚢𝚎𝚜𝚝𝚎𝚛𝚍𝚊𝚢 𝚠𝚊𝚜 𝚋𝚛𝚘𝚞𝚐𝚑𝚝 𝚝𝚘 𝚢𝚘𝚞 𝚋𝚢 𝚄𝚔𝚊𝚢-𝚞𝚔𝚊𝚢 𝚒𝚗 𝚃𝚊𝚐𝚊𝚢𝚝𝚊𝚢!🌸
𝚒𝚝𝚘𝚗𝚐 𝚃𝚘𝚙 (𝟻0𝚙) 𝚊𝚗𝚍 𝚜𝚑𝚘𝚛𝚝𝚜 (𝟼0𝚙) 𝚊𝚗𝚐 𝚝𝚊𝚐𝚊𝚕 𝚔𝚘 𝚗𝚊𝚗𝚐 𝚗𝚊𝚋𝚒𝚕𝚒 𝚎𝚑. 𝙳𝚒-𝚗𝚒𝚜𝚒𝚗𝚏𝚎𝚌𝚝 𝚊𝚝 𝚗𝚒𝚕𝚊𝚋𝚑𝚊𝚗 𝚔𝚘 𝚗𝚐 𝚋𝚘𝚗𝚐𝚐𝚊𝚗𝚐-𝚋𝚘𝚗𝚐𝚐𝚊! 𝚂𝚘𝚋𝚛𝚊𝚗𝚐 𝚗𝚊𝚔𝚊𝚔𝚊𝚖𝚒𝚜𝚜 𝚙𝚞𝚖𝚘𝚛𝚖𝚊-𝚙𝚘𝚛𝚖𝚊 𝚎𝚑😃 𝚔𝚊𝚢𝚊 𝚊𝚢𝚊𝚗!
𝙽𝚊𝚐-𝚞𝚞𝚔𝚊𝚢-𝚞𝚔𝚊𝚢 𝚍𝚒𝚗 𝚋𝚊 𝚔𝚊𝚢𝚘? 𝙰𝚗𝚐 𝚜𝚊𝚢𝚊 𝚍𝚒𝚋𝚊?! 𝙷𝚊𝚢 𝚗𝚊𝚔𝚊𝚔𝚊𝚖𝚒𝚜𝚜.😐
𝚆𝚊𝚕𝚊 𝚗𝚊𝚖𝚊𝚗 𝚍𝚒𝚗𝚐 𝚖𝚊𝚜𝚊𝚖𝚊 𝚔𝚞𝚗𝚐 𝚔𝚊𝚢𝚊 𝚖𝚘𝚗𝚐 𝚋𝚞𝚖𝚒𝚕𝚒 𝚗𝚐 𝚖𝚊𝚖𝚊𝚑𝚊𝚕𝚒𝚗! 𝙱𝚊𝚜𝚝𝚊 𝚠𝚊𝚐 𝚖𝚘 𝚕𝚊𝚗𝚐 𝚞𝚝𝚊𝚗𝚐𝚒𝚗 𝚖𝚊𝚔𝚊𝙿𝚘𝚛𝚖𝚊 𝚕𝚊𝚗𝚐"
(Photo source: Instagram – @ilovekaye)