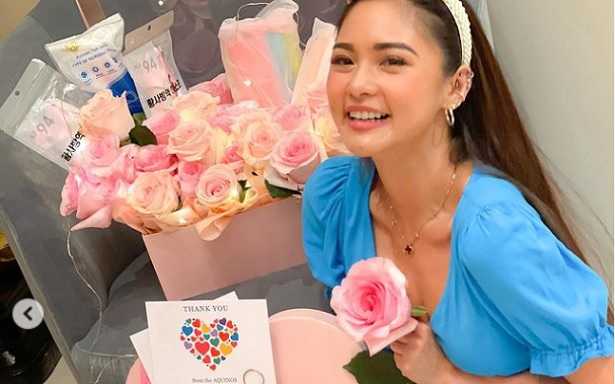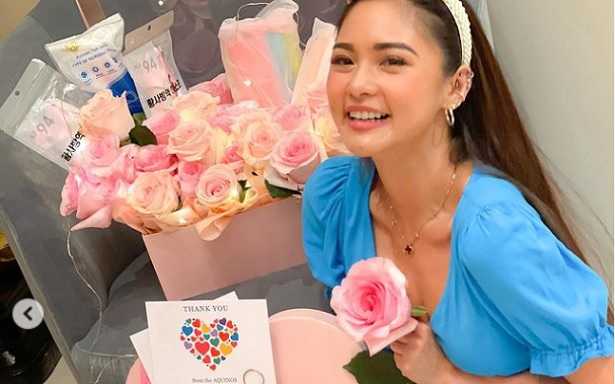 Actress Kim Chiu a bouquet of flowers from her actress and TV host Kris Aquino. Speculations that Kim was feeling down lately have been circulating the online circle.
Just like what a big sister would do, Kris sent her little sister Kim a beautiful bouquet of flowers perhaps to cheer her up and to remind her that her Ate Kris will be there for her.
Kim shared some photos of the said flowers with the following message:
"𝑫𝒊𝒔𝒕𝒂𝒏𝒄𝒆 𝒊𝒔 𝒕𝒆𝒎𝒑𝒐𝒓𝒂𝒓𝒚 𝒃𝒖𝒕 𝒐𝒖𝒓 𝒍𝒐𝒗𝒆 𝒊𝒔 𝒑𝒆𝒓𝒎𝒂𝒏𝒆𝒏𝒕."💖💖💖
Got these pretty flowers from ate @krisaquino ✨ thank you ate, love the all pink roses with pink face masks very useful.
I miss you soo much, please know that I am always here for you, praying for your health and will always be your panganay💖 hope when everything will be okay na, more bonding na tayo and more fun☺️ love you ate.
Yes nag exchange gift nga tayo. Hehe stay healthy and happy ate"
(Photo source: Instagram – @chinitaprincess)