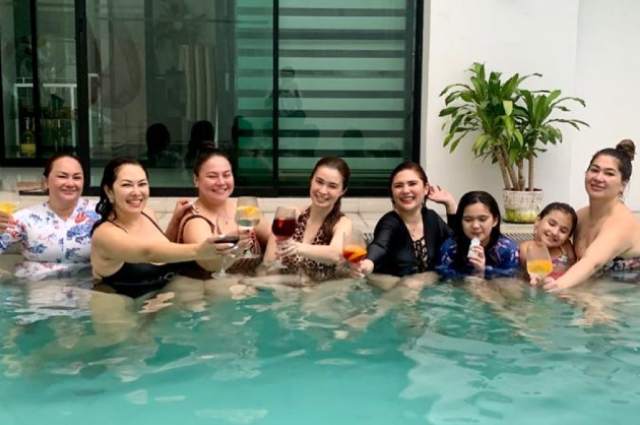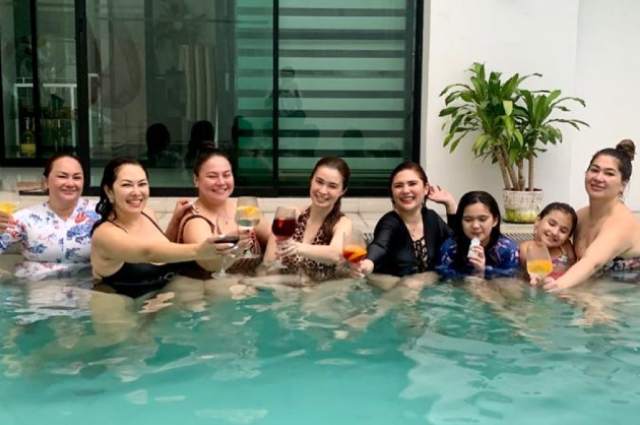 Celebrity friends Vina Morales, Karla Estrada, Ruffa Gutierrez, Sunshine Cruz and Jackie Forster reunited for Donita Rose's "despedida party". Donita will be going to America to start a new life.
In Vina's Instagram account, she posted photo of them taken during the "despedida party" with the word "Friends Forever" below the said photo.
==========
Related Stories:
==========
Vina captioned her post "90's MOMSHIES REUNITE ☺️❤️ #FriendsForever ❤️ Our despedida party for our dear @dashofdonita before MECQ and all of us were tested and thanked God were all Negative ❤️🙏 Most of the videos and photos were posted in our own social media so i decided to edit a special video for our Dee that took me hours to edit 😅 but worth it❤️ @iloveruffag @karlaestrada1121 @sunshinecruz718 @jackie_forster and i have been planning for this day but di lagi natutuloy, video is too long so will be posting in IG stories and my YT to see the whole video 😊 We love you Dee @dashofdonita 😘 #90sMomshies #friendsforever ❤️"
Vina also uploaded a video in her YouTube channel. "So I am at Vina's house right now because we're having a despedida thrown by Karla, Vina, Sunshine, Ruffa and one more sino pa ba? Jakie!" said Donita. All of them enjoyed the pool area and they also had a "karaoke" session.
(Photo source: Instagram – @vina_morales / @sunshinecruz718 / Youtube – @Vina Morales)
FEATURED VIDEO: