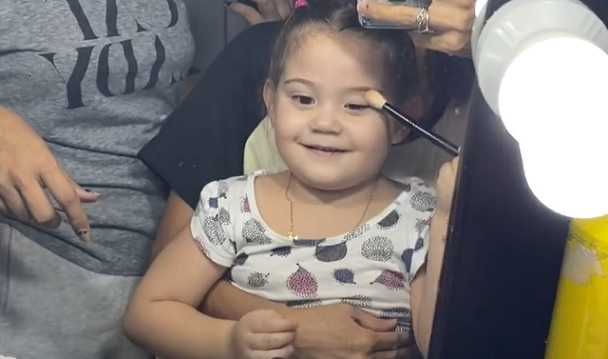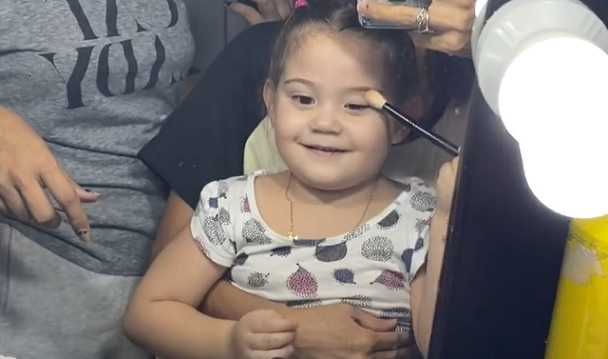 Fans and followers of TV host Marietta Subong known as Pokwang can't help but laugh and adore her daughter, baby Malia over the video that she shared on her social media account.
In her Instagram account, Pokwang shared a short video of her with her adorable daughter, baby Malia and her makeup artist Roviel. The said video was taken when they were in front of a vanity mirror as Pokwang was preparing for a show.
In the video, baby Malia was seen cutely distracting them as she applied makeup on herself. Roviel told Malia, "Mamang go to work, Malia go to sleep." Malia adorably replied to Rovie, "Me? No, no, no".
"may nanggugulo sa amin ng nang nang @pornstar_rovieleksenadorang bata @malia_obrian" Pokwang wrote in the caption.
The said video that Pokwang has shared captured the hearts of netizens as it went viral. In the comment section, netizens can't help but laugh and they expressed their admiration to baby Malia. Here are some of the comments from the netizens:
– "😂napatawa moko Malia hahaha….from Ocean Grove Victoria Australia 🇦🇺"
– "Waaaaahhhh maliaaaa 😍😍😍😍"
– "😂😂😂😂😂😂😂 No daw kase!! 😂😂😂😂😂😂😂"
– "Katuwa talaga ng batang to😂😂😂😂"
– "Si viel kasi eh hahahahha no no no tuloy"
(Photo source: Instagram – @itspokwang27)