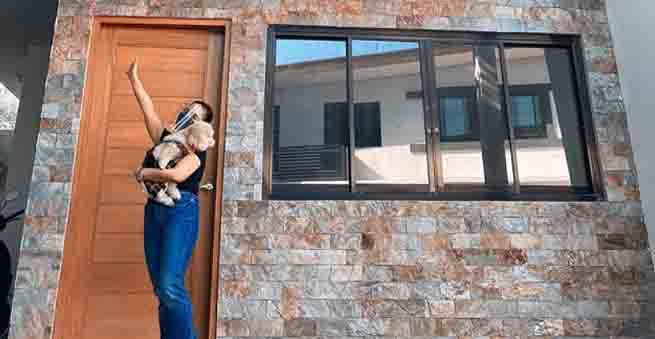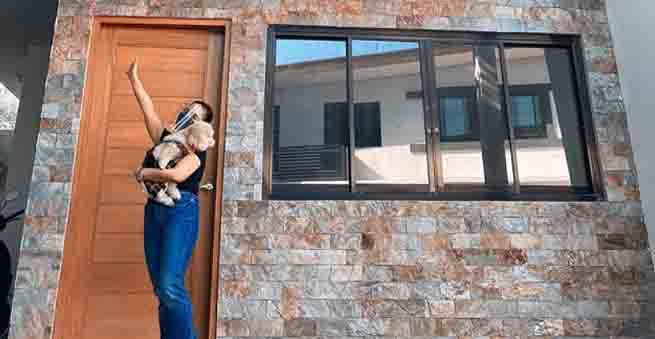 Singer actress Kakai Bautista took time to visit her three house in Laguna. Kakai is considered one of the most hardworker and kind hearted celebrity in the entertainment industry. In her recent vlog entry, Kakai visited the place where her parents are staying.
Kakai then visit the place where she grew up with her lolo and lola.
Kakai also showed her fans and followers the new house that she is constructing and said that if not for the COVID-19 pandemic, they should have moved in already.
"𝙽𝚐𝚊𝚢𝚘𝚗 𝚕𝚊𝚗𝚐 𝚔𝚊𝚖𝚎 𝚗𝚊𝚐𝚔𝚊𝚛𝚘𝚘𝚗 𝚗𝚐 𝚜𝚊𝚛𝚒𝚕𝚒𝚗𝚐 𝚋𝚊𝚑𝚊𝚢. 𝚂𝚊 𝙻𝚊𝚝𝚎𝚜𝚝 𝚔𝚘𝚗𝚐 𝚟𝚕𝚘𝚐 𝚙𝚒𝚗𝚊𝚜𝚒𝚕𝚒𝚙 𝚔𝚘 𝚒𝚝𝚘𝚗𝚐 𝚖𝚞𝚗𝚝𝚒𝚗𝚐 𝚝𝚊𝚑𝚊𝚗𝚊𝚗 𝚗𝚊𝚖𝚒𝚗. 𝙳𝚒 𝚙𝚊 𝚜𝚢𝚊 𝚝𝚊𝚙𝚘𝚜 𝚍𝚊𝚑𝚒𝚕 𝚒𝚙𝚊𝚙𝚊𝚢𝚘𝚜 𝚔𝚘 𝚙𝚊 𝚜𝚊𝚗𝚊 𝚊𝚗𝚐 𝚒𝚗𝚝𝚎𝚛𝚒𝚘𝚛 𝚔𝚞𝚗𝚐 𝚑𝚒𝚗𝚍𝚒 𝚗𝚊𝚔𝚊𝚛𝚘𝚘𝚗 𝚗𝚐 𝚙𝚊𝚗𝚍𝚎𝚖𝚒𝚊. 𝙾𝚘 𝚗𝚊𝚕𝚞𝚗𝚐𝚔𝚘𝚝 𝚊𝚔𝚘 𝚔𝚊𝚜𝚎 𝚍𝚊𝚙𝚊𝚝 𝚗𝚊𝚔𝚊𝚕𝚒𝚙𝚊𝚝 𝚗𝚊 𝚔𝚊𝚖𝚎 𝚙𝚎𝚛𝚘 𝚊𝚕𝚊𝚖 𝚔𝚘 𝚖𝚊𝚢 𝚍𝚊𝚑𝚒𝚕𝚊𝚗 𝚜𝚒 𝙻𝙾𝚁𝙳 𝚔𝚞𝚗𝚐 𝚋𝚊𝚔𝚒𝚝 𝚍𝚒 𝚙𝚊 𝚜𝚊 𝚗𝚐𝚊𝚢𝚘𝚗. 𝙰𝚝 𝚗𝚊𝚗𝚒𝚗𝚒𝚠𝚊𝚕𝚊 𝚊𝚔𝚘 𝚗𝚊 𝚖𝚊𝚔𝚊𝚔𝚊𝚕𝚒𝚙𝚊𝚝 𝚍𝚒𝚗 𝚊𝚗𝚐 𝚙𝚊𝚖𝚒𝚕𝚢𝚊 𝚔𝚘 𝚍𝚒𝚝𝚘! 𝚂𝚒 𝙻𝙾𝚁𝙳 𝚊𝚗𝚐 𝚋𝚊𝚑𝚊𝚕𝚊 𝚍𝚊𝚑𝚒𝚕 𝚜𝚢𝚊 𝚊𝚗𝚐 𝚐𝚊𝚐𝚊𝚠𝚊 𝚗𝚐 𝚙𝚊𝚛𝚊𝚊𝚗 𝚙𝚊𝚛𝚊 𝚖𝚊𝚝𝚞𝚙𝚊𝚍 𝚢𝚞𝚗. 𝙳𝚊𝚑𝚒𝚕 𝚗𝚊𝚙𝚊𝚔𝚊𝚛𝚊𝚖𝚒 𝚗𝚊 𝚗𝚢𝚊𝚗𝚐 𝚝𝚒𝚗𝚞𝚙𝚊𝚍 𝚜𝚊 𝚖𝚐𝚊 𝚙𝚊𝚗𝚐𝚊𝚛𝚊𝚙 𝚔𝚘.❤️🌈
𝙰𝚗𝚐 𝚋𝚊𝚑𝚊𝚢 𝚗𝚊 𝚒𝚝𝚘 𝚊𝚢 𝚔𝚊𝚝𝚊𝚜 𝚗𝚐 @jollibee 𝙹𝙾𝙻𝙻𝙸𝚂𝙴𝚁𝚈𝙴 𝚠𝚒𝚝𝚑 𝚊𝚝𝚎 𝚄𝚐𝚎, 𝚎𝚗𝚍𝚘𝚛𝚜𝚎𝚖𝚎𝚗𝚝 𝚔𝚘.😁💃🏼 𝙺𝚊𝚢𝚊, 𝙹𝙱 𝙷𝙾𝚄𝚂𝙴 𝚊𝚗𝚐 𝚝𝚊𝚠𝚊𝚐 𝚔𝚘 𝚍𝚒𝚝𝚘. 𝚍𝚒 𝚙𝚊 𝚒𝚝𝚘 𝚝𝚊𝚙𝚘𝚜 𝚍𝚊𝚑𝚒𝚕 𝚊𝚗𝚐 𝚒𝚋𝚊 𝚙𝚊 𝚊𝚢 𝚗𝚊𝚕𝚘𝚊𝚗 𝚔𝚘 𝚜𝚊 𝚋𝚊𝚗𝚔. 𝚂𝚞𝚐𝚘𝚍 𝚕𝚊𝚗𝚐, 𝚙𝚊𝚛𝚊 𝚜𝚊 𝚙𝚊𝚗𝚐𝚊𝚛𝚊𝚙 𝚔𝚊𝚜𝚎 𝚊𝚕𝚊𝚖 𝚔𝚘𝚗𝚐 𝚙𝚊𝚐𝚝𝚊𝚝𝚛𝚊𝚋𝚊𝚑𝚞𝚑𝚊𝚗 𝚔𝚘 𝚒𝚝𝚘. 𝙰𝚝 𝚙𝚊𝚐𝚜𝚒𝚜𝚒𝚔𝚊𝚙𝚊𝚗. 𝚐𝚞𝚜𝚝𝚘 𝚔𝚘𝚗𝚐 𝚖𝚊𝚕𝚊𝚖𝚊𝚗 𝚗𝚢𝚘 𝚗𝚊 𝚗𝚊𝚙𝚊𝚔𝚊𝚛𝚊𝚖𝚒𝚗𝚐 𝚋𝚎𝚜𝚎𝚜 𝚗𝚊 𝚗𝚊𝚖𝚒𝚗 𝚗𝚊𝚙𝚊𝚕𝚊𝚢𝚊𝚜 𝚜𝚊 𝚖𝚐𝚊 𝚗𝚊𝚛𝚎𝚗𝚝𝚊𝚑𝚊𝚗 𝚗𝚊𝚖𝚒𝚗, 𝚍𝚞𝚖𝚊𝚝𝚒𝚗𝚐 𝚜𝚊 𝚙𝚘𝚒𝚗𝚝 𝚗𝚊 𝚊𝚔𝚊𝚕𝚊 𝚔𝚘 𝚜𝚊 𝚔𝚊𝚕𝚢𝚎 𝚗𝚊 𝚔𝚊𝚖𝚒 𝚝𝚒𝚝𝚒𝚛𝚊. 𝙿𝚎𝚛𝚘 𝙽𝙰𝙿𝙰𝙺𝙰𝙱𝚄𝚃𝙸 𝙽𝙸 𝙻𝙾𝚁𝙳. 𝟸 𝚍𝚎𝚔𝚊𝚍𝚊 𝚊𝚔𝚘𝚗𝚐 𝚗𝚊𝚗𝚐𝚊𝚛𝚊𝚙 𝚙𝚊𝚛𝚊 𝚜𝚊 𝚙𝚊𝚖𝚒𝚕𝚢𝚊 𝚔𝚘. 𝚆𝚊𝚐 𝚗𝚊𝚝𝚒𝚗𝚐 𝚒𝚜𝚒𝚙𝚒𝚗 𝚗𝚊 𝚊𝚗𝚐 𝚔𝚊𝚑𝚒𝚛𝚊𝚙𝚊𝚗 𝚗𝚊𝚗𝚊𝚛𝚊𝚛𝚊𝚗𝚊𝚜𝚊𝚗 𝚗𝚊𝚝𝚎𝚗 𝚊𝚢 𝚙𝚊𝚛𝚞𝚜𝚊, 𝚔𝚞𝚗𝚐𝚍𝚒 𝙱𝚕𝚎𝚜𝚜𝚒𝚗𝚐 𝚗𝚊 𝚖𝚊𝚐𝚙𝚊𝚙𝚊𝚝𝚒𝚋𝚊𝚢 𝚜𝚊 𝚊𝚝𝚒𝚗 𝚊𝚝 𝚜𝚊 𝚊𝚝𝚒𝚗𝚐 𝙵𝙰𝙸𝚃𝙷. 𝚂𝚊 𝚖𝚐𝚊 𝚖𝚊𝚔𝚊𝚔𝚊𝚋𝚊𝚜𝚊 𝚗𝚒𝚝𝚘, 𝚆𝙰𝙻𝙰𝙽𝙶 𝙳𝙴𝙰𝙳𝙻𝙸𝙽𝙴 𝚊𝚗𝚐 𝚙𝚊𝚗𝚐𝚊𝚛𝚊𝚙! 𝙺𝚊𝚑𝚒𝚝 𝚊𝚗𝚘𝚗𝚐 𝚊𝚐𝚎 𝚖𝚘, 𝚔𝚊𝚑𝚒𝚝 𝚊𝚗𝚘𝚗𝚐 𝚜𝚒𝚝𝚠𝚊𝚜𝚢𝚘𝚗 𝚋𝚊𝚜𝚝𝚊 𝚐𝚞𝚜𝚝𝚘 𝚖𝚘𝚗𝚐 𝚙𝚊𝚐𝚑𝚒𝚛𝚊𝚙𝚊𝚗 𝚊𝚢 𝚖𝚊𝚝𝚞𝚝𝚞𝚙𝚊𝚍! 𝚃𝙸𝚠𝚊𝚕𝚊 𝚜𝚊 𝚜𝚊𝚛𝚒𝚕𝚒 𝚊𝚝 𝚃𝚒𝚠𝚊𝚕𝚊 𝚔𝚊𝚢 𝙻𝙾𝚁𝙳! 𝚢𝚊𝚗 𝚕𝚊𝚗𝚐 𝚊𝚗𝚐 𝚏𝚘𝚛𝚖𝚞𝚕𝚊 𝚗𝚊 𝚔𝚊𝚒𝚕𝚊𝚗𝚐𝚊𝚗 𝚖𝚘.
𝙰𝚝 𝚝𝚊𝚗𝚍𝚊𝚊𝚗 𝚖𝚘, 𝚕𝚊𝚑𝚊𝚝 𝚗𝚐 𝚋𝚊𝚐𝚊𝚢 𝚗𝚊 𝚗𝚊𝚔𝚞𝚔𝚞𝚑𝚊 𝚖𝚘 𝚗𝚐 𝚖𝚊𝚋𝚒𝚕𝚒𝚜 𝚔𝚊𝚙𝚊𝚐 𝚍𝚒 𝚖𝚘 𝚒𝚗𝚊𝚕𝚊𝚐𝚊𝚊𝚗 𝚊𝚢 𝚖𝚊𝚠𝚊𝚠𝚊𝚕𝚊 𝚍𝚒𝚗 𝚗𝚐 𝚖𝚊𝚋𝚒𝚕𝚒𝚜!!
𝚃𝙷𝙰𝙽𝙺 𝚈𝙾𝚄 𝙻𝙾𝚁𝙳 𝚏𝚘𝚛 𝙴𝚅𝙴𝚁𝚈𝚃𝙷𝙸𝙽𝙶.❤️ 𝚃𝚑𝚊𝚗𝚔 𝚢𝚘𝚞 𝚄𝙽𝙸𝚅𝙴𝚁𝚂𝙴"
(Photo source: Instagram – @ilovekaye)