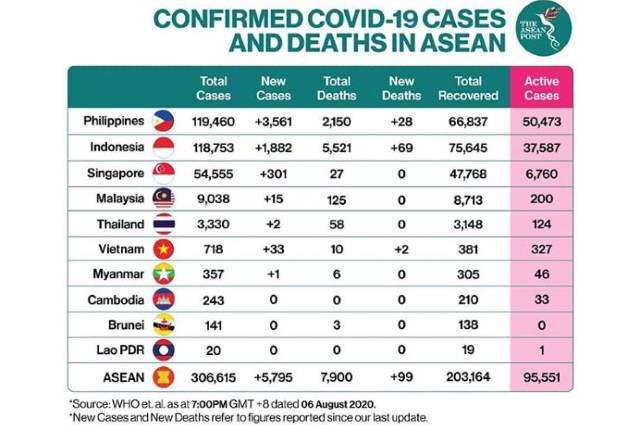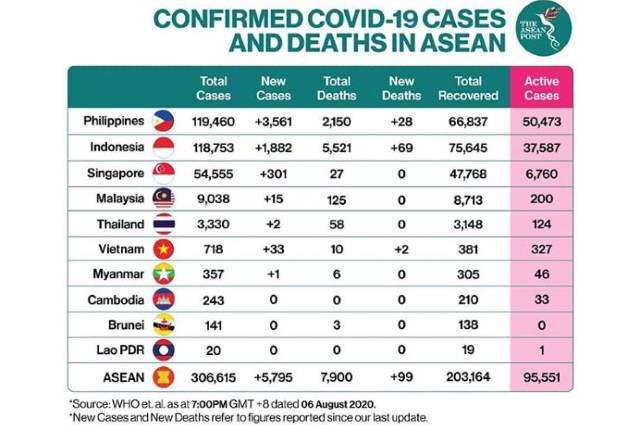 The Philippiens has surpassed Indonesia in terms of the most number of cases of COVID-19, with 119,460 cases after it reported 3,561 confirmed cases as of August 6, 2020. Indonesia came in second with 118,000 cases.
Here is the full report from Asean Post:
==========
Related Stories:
==========
"DAILY SNAPSHOT (PHILIPPINES SURPASSES INDONESIA): Total Cases crossed the 306,000 mark today at 7:00 pm with almost 5,800 New Cases reported across the region in the past 24 hours. The Philippines has reported a total of 3,561 confirmed cases based on the total tests done by 89 out of 98 current operational labs. Of the new infections reported today, 2,740 (77%) occurred within the past 14 days (24 July – 6 August).
The Philippines has now overtaken Indonesia and sits at the top of our chart with the highest number of Total Cases (119,460) among all 10 ASEAN member states. Indonesia remains in second spot again today, reporting 1,882 New Cases – up from yesterday's tally of 1,815. Indonesia now has over 118,000 Total Cases and the highest Total Deaths in Southeast Asia at 5,521. Singapore is still in third spot today, reporting 301 New Cases today – down from yesterday's spike of 908.
The island state has only 6,760 Active Cases now despite reporting 54,555 Total Cases – an outstanding achievement for the country's front-liners and healthcare providers. According to our tally, Vietnam has reported 33 New Cases since our update yesterday. At the time of writing, the ASEAN member state has 718 Total Cases. 2 more people have died in the past 24 hours related to the COVID-19 virus. Deputy Health Minister Nguyen Truong Son said that the current COVID-19 outbreak in Vietnam looks set to peak in 10 days. Malaysia has reported 15 New Cases today – down from yesterday's tally of 21 but still in the double-digits.
Thailand has reported 2 New Cases (7 yesterday) whereas Myanmar reported 1 New Case yesterday evening. Total Deaths across all 10 ASEAN member states now stands at 7,900 with 99 New Deaths reported today. All new fatalities are in Indonesia (69), the Philippines (28) and Vietnam (2). On a brighter note, over 203,000 Total Recoveries have been reported to date in the region."
(Photo source: Instagram – @aseanpost)
FEATURED VIDEO: